Medium-term Management Plan
In April 2017, Resona group formulated a new Medium-term Management Plan (Change to the "Next") to become "Retail No.1", a "Financial Services Group" that is most supported by regional customers as it walks with them into the future together.
Overview of the Mid-term Management Plan
In the Plan, we have established the basic strategies of 1) evolving the "Omni-channel", 2) developing 26,000 "Omni-advisors", and 3) establishing an "Omni-regional" platform to construct a "Next-generation Retail Financial Services" Model while remaining true to our basic stance that "Customers' happiness is our pleasure".
We will rigorously implement business strategies based on "Growth, turnaround, succession solution" for corporate customers and "Total life solutions" for individual customers as well as foundation reforms in four areas aiming at increasing sales staffs and higher productivity at the same time.
Through these basic strategies, business strategies and foundation reforms, we will realize the provision of customer-oriented solutions and medium-to-long term income structure reforms.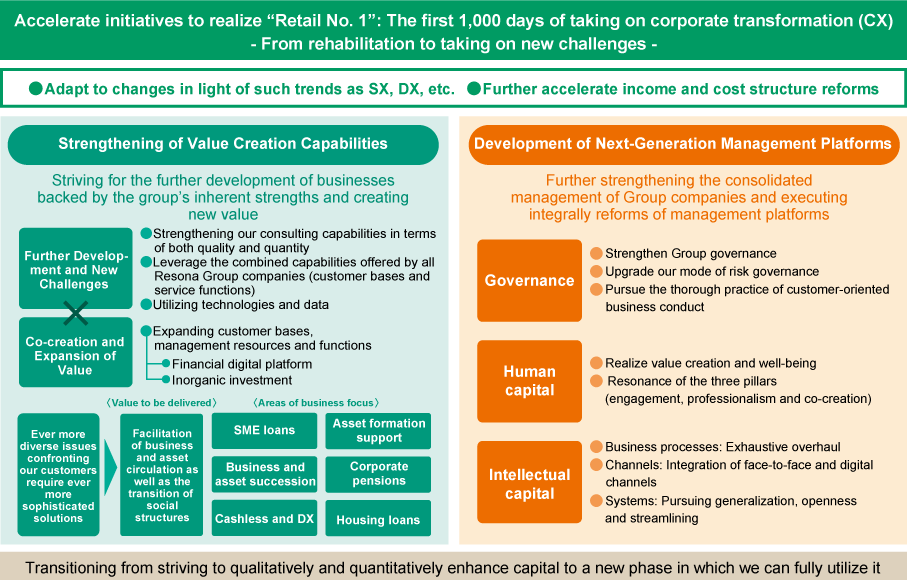 KPIs and Business Strategy
Key performance indicators in the final year of the Plan are as described below.
We will strive to realize the Plan through carrying out such measures as 1)diversify income sources and increase fee income by establishing a new financial services model, 2)improve efficiency through further cost structure reform and others.
Also, we will carry out effective measures in our main business fields such as Asset Formation Support Business, Settlement Business, Succession Business and others by utilizing our trust capabilities, real estate brokerage function and asset management capabilities.
【Key Performance Indicators as of FY2019】
| Key Performance Indicators (KPIs) | Initial Plan | Plan after KMFG integration |
| --- | --- | --- |
| Net income attributable to owners of the parent | JPY 165 bn | JPY 170 bn |
| Consolidated fee income ratio | Over 35% | Lower 30% range |
| Consolidated cost income ratio | Below 60% | 60% level |
| ROE *1,2 | Over 10% | Over 10% |
| CET1 ratio *1,3 | 9% level | 9% level |
[FY2019 assumed conditions : Overnight call rate (0.05) %, Yield on 10Y JGB + 0.05%, Nikkei 225 18,000 yen to 21,000 yen level]
*1

Initially reflected the impacts of KMFG integration

*2

(Net income - Preferred dividends) / (Total shareholders equity - balance of outstanding preferred shares)

*3

Exclude unrealized gain on available-for-sale securities, net of tax effect