Medium-term Management Plan
May 2020, remaining true to our basic stance that "Customers' happiness is our pleasure." Resona group formulated a new Medium-term Management Plan (Establish "Resonance Model") to become "Retail No.1", a "Services Group" that is most supported by regional customers as it walks with them into the future together.
Overview of the Medium-term Management Plan
Changes in the social structure are expected to extend over the medium and long terms. Given this, the Resona Group (the "Group") has designated "contributing to the creation of a sustainable society while achieving sustainable corporate growth" as its medium- to long-term vision.
We have positioned establishing "Resonance Model" as our basic policy. This means we will provide new value to customers through diverse resonance. We will work to thoroughly differentiate our traditional indirect financing operations through further development. At the same time, we will take on new challenges by pursing new businesses based on innovative ideas to break free of the bank model.
Also we will rebuild our management foundations to deconstruct the high-cost structure of our retail businesses.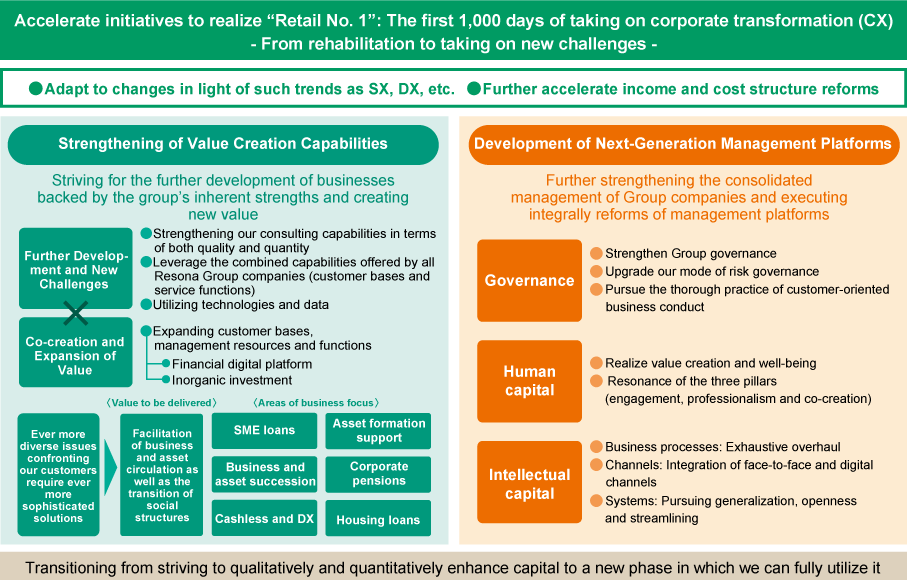 KPIs and Business Strategies
We will strive to realize medium-to long-term income structre reform and sustainable corporate growth through the Plan.
As business strategy, we will upgrade our succession business, which takes full advantage of the Resona Group's retail sales capabilities and base, sophisticated trust services. At the same time, we will focus efforts on further evolving the Omni Strategy that we pushed forward under the previous medium-term management plan.
【Key Performance Indicators as of FY2022】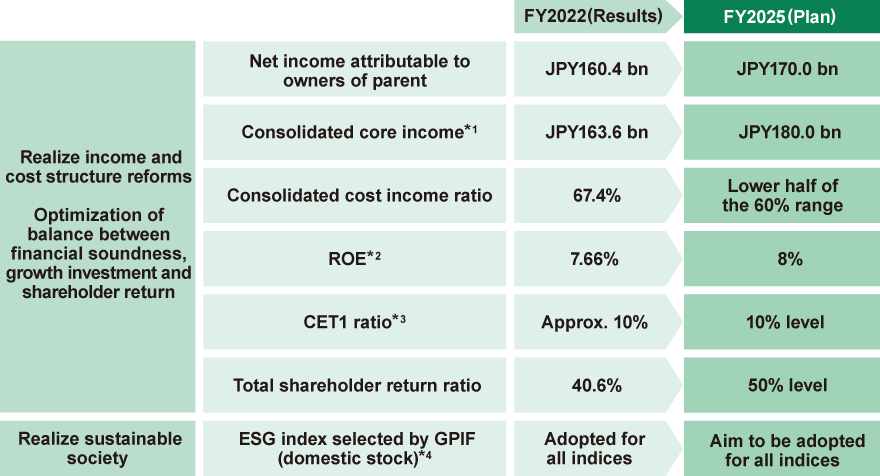 [FY2022 assumed conditions : Overnight call rate (0.05) %, Yield on 10Y JGB (0.05) %, Nikkei 225 23,000 yen]
*1.

Net income / Total shareholders equity (simple sum of the balance at the beginning and the end of the term)

*2.

Based on the finalization of Basel 3. Exclude unrealized gain on available-for-sale securities

*3.

FTSE Blossom Japan Index, MSCI Japan ESG Select Leaders Index, MSCI Japan Empowering Women Index, S&P/JPX Carbon Efficient Index