Initiatives for Human Rights
System for Human Rights Promotion
The Resona Group established the Human Rights Promotion Committee under the Group Sustainability Promotion Committee to raise awareness of human rights among all employees as a critical management issue. The Human Rights Promotion Committee conducts comprehensive reviews on topics such as human rights policy, domestic and global trends in human rights, and human rights issues at each Group company, and determines the basic policy on promotion of human rights, including training topics, for each fiscal year.
The Audit Committee member in charge of investigations (director) attends meetings of the committee.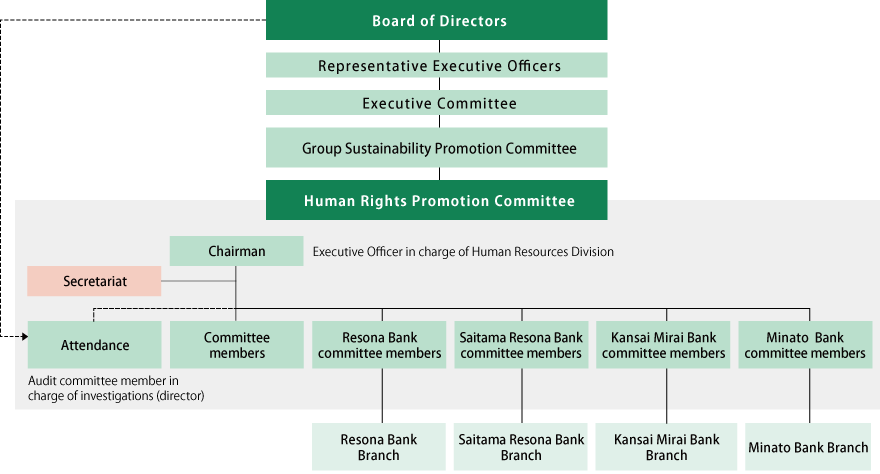 In promoting human rights awareness activities, such as training, we have established a human rights awareness promotion system for each subsidiary, with a human rights awareness promoters assigned at each level of organization (head of organization) to carry out customized activities.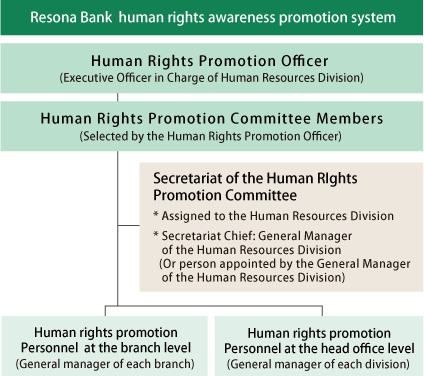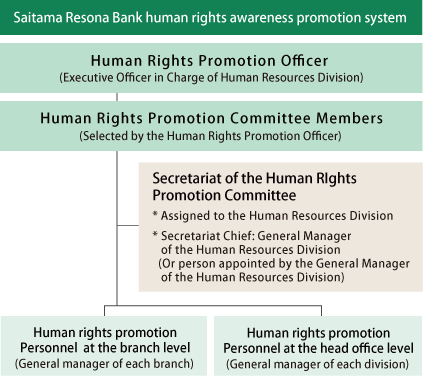 Examples of System for Human Rights Promotion Initiatives
The Resona Group has developed a system for all Group employees to take part in human rights training mainly through workplace training on a new theme each year for more in-depth understanding of the philosophy behind the Group's human rights policy and to raise their awareness towards human rights.
Workplace Training
Training focused on human rights promotion for all employees within the Group.
Effective period

Training topic

Participants

Participation
Rate

FY 2019

Understanding developmental disabilities (focusing on reasonable accommodation)
LGBT human rights (outing)

17,921

93.7%

FY 2018

Understanding developmental disabilities
LGBT human rights (Expectations for those who declared ALLY)

16,815

93.6%

FY 2017

Looking at human rights from the perspective of inclusion

1.

Human rights of persons with disabilities

2.

LGBT human rights

16,075

95.9%
*

Participants and Participation Rate are calculated from the data of Resona Holdings, Resona Bank, and Saitama Resona Bank
Human Rights Awareness Promoter Training (Training for Division and Branch General Managers)
Training is held once a year, for the human rights promotion officers (division and branch general managers) to learn about the latest trends in human rights issues and spearhead efforts in each workplace.
Segment-Specific Training
The Secretariat of the Human Rights Promotion Committee organizes training on human rights during segment-specific training, which includes new employee orientation and training for newly promoted managers. These sessions convey basic approaches to respecting human rights along with various forms of human rights knowledge.
Training on international standards on human rights is also included in new employee orientation.
Hiring Personnel Training
To ensure fair recruitment and hiring, every year we hold training for hiring personnel on fair selection criteria and methods along with various human rights knowledge.
Announcement of Human Rights Policy
We will do the following to ensure thorough dissemination of the Group's human rights policy to all employees.
1.

Distribute messages from top management on human rights policy at workplace training targeting all employees.

2.

Conduct human rights policy related training (questions and answers) through e-learning for all employees.

3.

Discuss human rights policy at segment-specific training, including new employee orientation and training for newly promoted managers.
Initiatives on Human Rights for Employees
Guidelines on Health Management
In "living up to customers' expectations" and "renovating its organization" as outlined in the our Corporate Mission, the Resona Group constantly works to promote the formation of a comfortable and healthy workplace as well as maintains and improves the health of employees both mentally and physically, aimed at the Group's further development.
The Resona Group's banks employ industrial physicians along with industrial health staff, who carry out health guidance through patrols and monitoring, check the workplace environment and point out the need for improvements. They also work with health managers from each department and branch in an effort to improve the workplace environment to achieve even more employee-friendly workplaces.
In addition to regular health exams required by law, we provide comprehensive physical exams for employees who are 35 and every two years for employees 40 years of age and older (every year for manager supervisors). Furthermore, through the Resona Health Association, we provide subsidies to defray the costs of health checks including comprehensive health exams and cancer screening for employees and their family members. In addition, we perform stress tests and conduct various mental health training as a countermeasure for mental health, and support the health management of employees, including assigning specialist physicians and counselors.
Consideration toward the Labor Environment
The relationships of the Resona Group with its employees and labor unions are stable.
Negotiations as well as discussions are held periodically regarding maintaining workplaces where employees find it easy to work, wages, labor conditions (including welfare benefits), and other matters.
Addressing All Forms of Harassment
To make the workplace comfortable and free of harassment, the Resona Group Action Principle, Resona Group Human Rights Policy, and Employment Regulations prohibit verbal and physical harassment along with all forms of discrimination.
Moreover, we have developed a sexual harassment prevention guideline and power harassment guideline, as well as set up a hotline-based point of consultation system. The details of consultations are strictly handled as confidential.
Furthermore, every quarter we send out "Harassment Correspondence" and reminder emails from top management, which includes information on hotlines. We also publish informative materials, such as "The Don'ts" which outlines undesirable behaviors, on the intranet and conduct read-throughs at each workplace.
We conduct workplace training and e-learning for all employees, as well as training for those in managerial positions, including department leaders and newly promoted managers, on harassment using case studies and handling procedures for harassment reports. We are committed to fostering an open and positive work environment by deepening employee understanding.